Recently, I've been thinking how lucky I am to have a home, a family and food. Even though, some parts of the world are hungry, homeless and unsafe. I wish for that day to end.
I may not have the power to give people a better life. However, Simple things can help a person and give them hope.
During the weekends, I baked cinnamon buns for my neighbours and also for the homeless I can find. Not only I did this. I wanted to give back to the community. I even paid stranger ticket behind me, which I never done that before. As always I urged my parents to sit back, relax and let me do everything in the house, that needed to be done.
I guess, It's good to keep my mind busy and not happened to procrastinate and sleep all day. Why not go out there and give cinnamons buns. I know from the photo above, I kinda went crazy with the icing sugar but my cinnamon buns are so tasty. You don't even need an egg.
Cinnamon buns Ingredients.
1tsp Yeast
1cup Milk
1/2cup Butter or sunflower oil
1/4tsp Salt
3cups all-purpose flour
1tbsp Cinnamon
1/2 cup Sugar
I've realised that this experience has taught me a valuable lesson to never forget to give back. As well as stop whining for not having the best latest gadgets, latest makeup and so on. Because others are unfortunate to have such a luxury. As a blogger, there are times that we never in our minds to think outside the box. It's important that we all should do something to surprise others and challenge someone else or followers to do the same.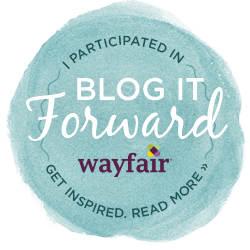 When I heard about the
#BlogItForward
campaign spreading kindness and make a difference. I am so happy to be apart of this movements, that
every blogger should participate in
.
Please do!
For every
#BlogItForward
, the act of kindness
Wayfair
will donate £50 to the
Habitat for Humanity
. An organisation that helps the poorest and get people to lift themselves out of poverty as well as building them a home and community.
If you're a blogger. Let's make a difference.